ENHANCE YOUR
Member Experience with Fit Radio
We have everything you need in one simple productivity app. With a few awards under our belt, you can trust us

Cover the music played in your gym and your group fitness classes for all the PROs (ASCAP, SESAC, BMI, & GMR)

Access to the Fit Radio app to provide your gyms & trainers with 10K+ playlists created specifically for fitness by our talented DJs

Digital Experience for your members to connect with you & your playlists on Fit Radio, with a revenue share of $1.50/month/subscriber

Royalty report management for all the PROs (ASCAP, SESAC, BMI, & GMR)

Collaborate with our DJs to create custom mixes for your classes & gyms
TESTIMONIALS
Our Happy Clients
We love working with Fit Radio on all of our major mobile application projects. They are always communicative and work creatively with our team to help us solve most of our development requests. They are a true partner to our team here at Gold's and always work tirelessly to ensure that our business goals are met.

Nicole

Gold's Gym | Digital Engagement
I can't imagine my life as a Group Fitness Instructor without Fit Radio! Every style, genre, and tempo can be easily found in their vast library and time-based workouts are a breeze to teach with the built-in timer. It's vital for us to stay current and connected to the music that is trending and Fit Radio makes that easy. Fit Radio is truly the best tool in my instructor toolbox!

Abrea

Life Time Fitness | Group Fitness National Education Manager
We're really excited about the corporate move of recommending your app, as it gives us access to a wider range of new and edgy music than we had beforehand

Sara

Xtend Barre | Gym Owner
FITRADIO
A Music Experience that Everyone
Can Depend On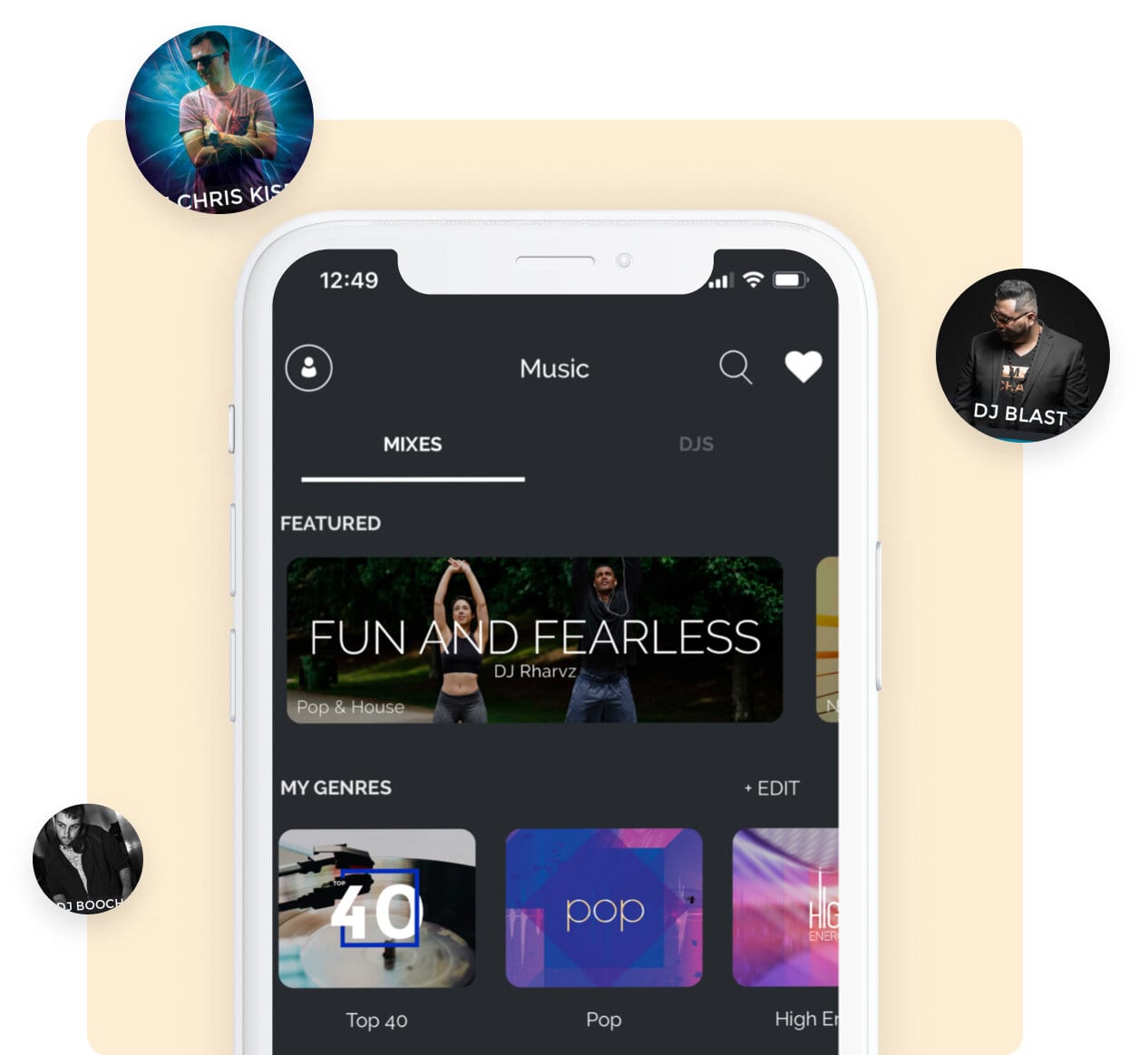 Quality Playlists
Because we have DJs creating our playlists, the music will never stop or lull between songs. Our mixes maintain a consistent and energetic pace to keep listeners feeling motivated the entire time.
Mixes for any occasion
No matter what genre you choose, you'll always receive high energy playlists full of popular artists, sort music by genre, workout-type, bpm, mood, DJ, style, and more. We have over 10K+ custom playlists to choose from with 150+ new mixes added a month.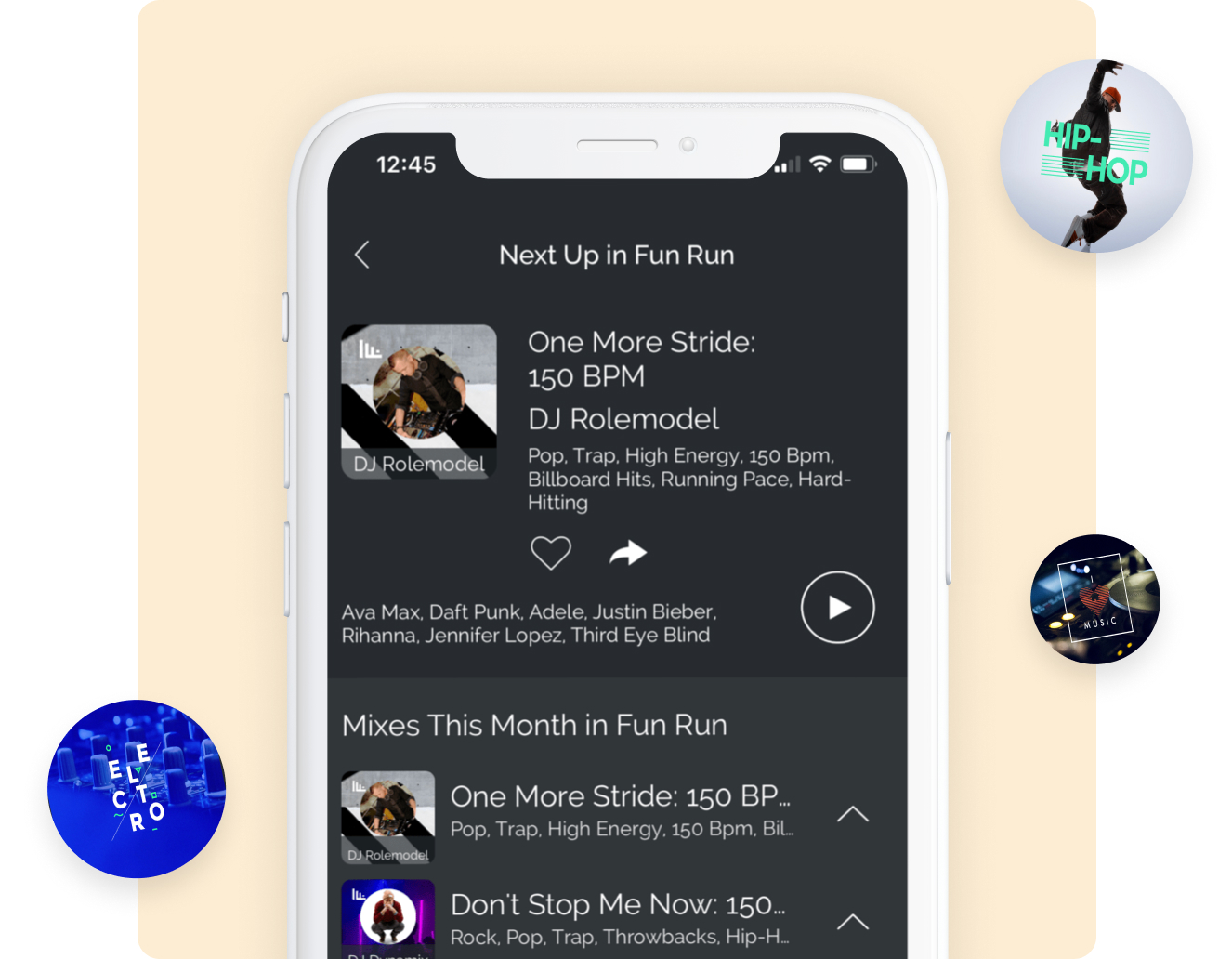 Analytics that matter
Our staff utilizes data from our individual workout users from all across the country to ensure that the mixes we provide are popular before they ever enter your class. We'll give you access to our content team to ensure the mixes are formatted properly for each of your classes.
ROYALTIES
"Do we Have to Pay Royalties? We're Already Paying for Music."
As you may or may not know, gyms and studios are responsible for paying performance publishing rates for all music played over a speaker. If you play music inside your fitness classes, this rate is even higher and is not covered by background music business services.
Many gyms are not paying some or all of the Performance Rights Organizations (BMI, SESAC, ASCAP, & GMR) and are putting themselves at risk of potential litigation.
OUR SOLUTION
Fit Radio will Manage all of Your Licensing Needs.
Fit Radio will now cover all the PRO rates for your location(s) for a flat monthly fee + handle all of the reporting requirements for each PRO.
Want to Learn More?
We would love to hear about your gym and discuss how we can help.